SUP Boards (Paddle Boards)
PADDLE BOARDS AND I-SUPS IN EASTBOURNE.
A new range of paddle boards (SUPS) in stock now from MAMBOOLA,
 Double skin inflatable and come with pump, backpack, paddle and leash.
   There are 3 models available, Asana, Sport and Free Style.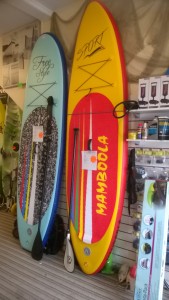 CIRCLE ONE PADDLE BOARDS IN EASTBOURNE.
Circle One were there before the SUP scene really hit the UK radar and in 2005 Jeff was proud to introduce a range of SUP boards to complement the already highly popular range of epoxy surfboards. With Jeff Townsley's legendary shaping knowledge we always knew our SUP's would be special and that's just what our customers have been telling us. We constantly strive to build on our solid reputation for craftsmenship and build quality and are proud to be part of the SUP revolution. Whether you are looking to ride a wave or prefer a flat water cruise, we have the right shape for you.
Circle One SUP boards are available in 3 ranges: the 9′ 2″, 9'6″, 10'2″, 11′ and 12′ hardboard bamboo laminate range, the 10′ 4″ and 11′ soft-top range and 10′ 6″ and 12′ 6″ iSUP range.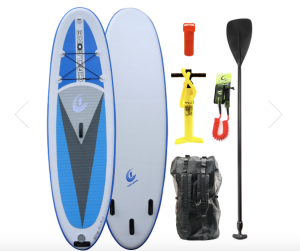 Circle on 10'6    I-Sup kit
Australian Paddle Board Co. from Circle one.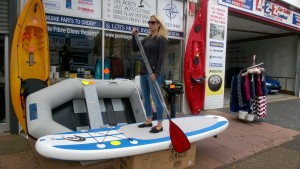 The Circle one 10′ 6" to order 2 – 3 days, payment with order.
Call Bosun's locker Eastbourne 01323 304672
Seago Yachting  I- SUPs
Seago paddle boards come in 2 designs FREERIDE or GLIDE. They are highly portable and great fun on the water. These compact paddle boards can be stowed easily in the carry bag and setup time is fast so you will be out having fun in no time.
Seago I-Sup  10'6
RIBER SUPS IN EASTBOURNE.
                                                        £475                                                        £425                                                    £525
RIBER SUPs are to order only and payment in full is required at time of order.
Bosuns Locker Eastbourne, Supporting the RNLI and Coastguard Association.