Wet Suits, Buoyancy Aids, Life Jackets, Rash Vests and kags.
Wet Suits in Eastbourne !
Circle One has been designing and manufacturing wetsuits for over 30 years so we know a thing or two about building a product that will meet the demands of the modern surfer and water-sports enthusiast. We know your priorities are flexibility, warmth and a product that will last longer than one season. That's why all our suits undergo rigorous 'real world' testing in British waters so you know when you buy a Circle One wetsuit you are buying into a product that delivers top-class performance in all conditions.
The pace of change in wet suit manufacturing technology is quicker these days than it ever was. We are passionate about selecting only the best premium materials available and employ progressive manufacturing techniques to achieve the quality for which Circle One suits are renowned
       Features
Strategic 'C1 -flex4′ neoprene placement on shoulder, arm and under-arm.
Solid flatlock seam construction
Kevlar impregnated full-flex knee pads
'Hydrophobic' chest and back panel to cut wind-chill and finger-nail proof
Luxury lycra adjustable collar for comfort fit
Anatomical panel fit
Durable, chunky YKK back zip
Also available as a short suit.
We also have a range of other makes of Wet suits available both short and full suits in Adult and Children's sizes, The makes can change quite quickly from week to week.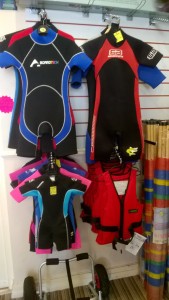 RASH VESTS IN EASTBOURNE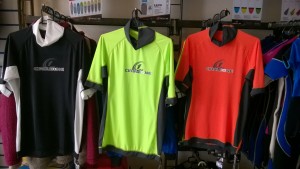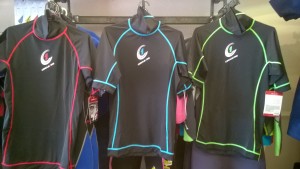 Our Lycra Rash Vests are UV protective and are the ultimate in comfort in the water, whatever the conditions. Stylish worn on their own or layer up under a suit for extra warmth. The range is available in a variety of colours.
Kag Jackets.
4oz PU Kag.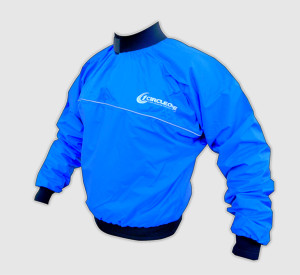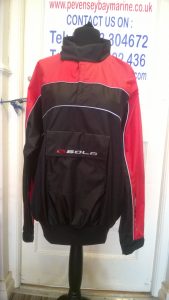 With Neoprene cuffs, collar and waistband the Circle one Kag Jacket is ideal for Kayaking, Sailing or even Cycling. Its lightweight and will pack into a very small space, it will give that little extra protection against the weather.
TWF / SOLA SCREAM BUOYANCY AIDS
The SOLA Scream Overhead Buoyancy Aid is designed for safety and practicality when having fun in the water. The Scream has a 50 Newton rating that conforms to E.U. safety standards.
The closed cell foam inner and 100% nylon outer help to keep the warmth in, the water out and help to increase your buoyancy.
The Scream features a YKK heavy-duty front zipper and a large front storage pouch with zipper.
There's also a fleecy hand-warmer pocket at the front of the Scream and large rear zip pocket for a hydration pouch so you won't get dried-out.
It has adjustable side and shoulder straps so you can make it fit comfortably and securely and the neoprene shoulder supports provide flexibility and added comfort.
The Scream has also been designed to be high-fitting for maximum flexibility and comfort.
TWF CHILDRENS 100N LIFE JACKET
The TWF KIDS 100N LIFE JACKET is designed for safety and practicality when having fun in the water. The life jacket has a 100 Newton rating that conforms to E.U. safety standards.
The closed cell foam inner and 100% nylon outer help to keep the warmth in, the water out and help to increase your buoyancy.
It features a YKK front zipper and a Fixlock quick-release adjustable buckle at the front and it has adjustable leg-straps for a good tight fit.
The life jacket has been designed for use in sheltered waters and comes in a bright orange colour with light-reflective panels on the shoulders and chest to help you be seen in the water.
The life jacket should be checked regularly to make sure that the vest and the buoyancy material are in good condition.
After using the life jacket, always rinse it in fresh water to get rid salt and sand and make sure to dry and store it in a well-ventilated place.
The TWF Life Jacket reduces the risk of drowning but does not guarantee rescue.
FEATURES:
BRIGHT ORANGE FOR IMPROVED VISIBILITY
REFLECTIVE COLLAR AND CHEST PANELS
QUICK-RELEASE FRONT BUCKLE AND ADJUSTABLE LEG-STRAPS
100 NEWTON RATING CONFORMS TO E.U. SAFETY STANDARDS
Circle 1 Adult Buoyancy Aid.
Adult Buoyancy Aid with Front Zip and Chest Strap. Featuring a front zip for quick, easy entry and neoprene side panels for extra stretch and comfort. The webbing chest strap keeps this garment snug to the body. Details Available in sizes XS, S, M, L, XL, XXL.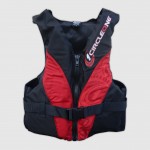 Tested to meet minimum 50N requirement.
CHILDREN'S  BUOYANCY AIDS IN EASTBOURNE.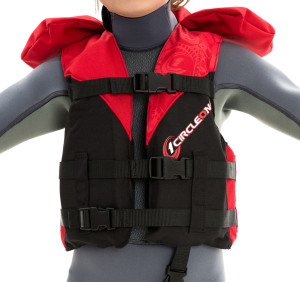 Child size with 3 straps and coller.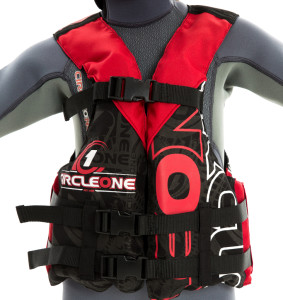 Youth size with 3 straps
CE EN393 Certified. Circle One Buoyancy Aids are made from heavy duty 600D PU coated nylon for maximum durability and are constructed using super soft block foam for cushioning and comfort. They are designed and cut for an ergonomic fit and ease of movement. All our Buoyancy Aids are tested to EN393.
BESTO CHILD LIFE JACKET.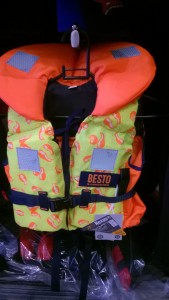 Suitable for Children From 6kgs
SEAGO LIFE JACKETS to order.
Seago's completely redesigned flagship lifejacket.
Our design team have combined a range of new
features in one lifejacket that ensures elite
performance and safety, together with maximum comfort.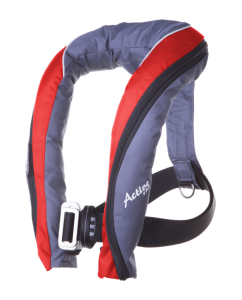 The new range of Active lifejackets from Seago have
been designed to combine maximum comfort with
outstanding performance. You won't know it's there until it's needed.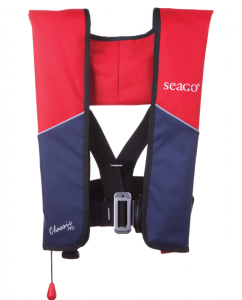 Designed for extended offshore sailing & racing
with UML Pro Sensor head for easy checks.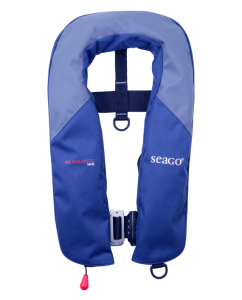 The versitile Seaguard 165 is an updated design
of a popular lifejacket model that we have been
selling for more than a decade.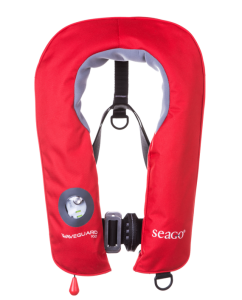 The new Seago Waveguard Junior lifejacket is a
revelation in design, comfort and safety, incorporating
the S Design lung and easy fit buckle as well as upgraded material.
Rearming kits for Seago Life Jackets available to order !
*Please ask for the RNLI free guide to life Jackets and Buoyancy Aids in Store*
Most major credit cards taken.
Bosuns Locker Eastbourne, Supporting the RNLI and the Coastguard Association.
Buoyancy Aids from stock. Auto gas and manual inflation Life Jackets from Seago to order, lead time 48hrs. T & Cs apply.